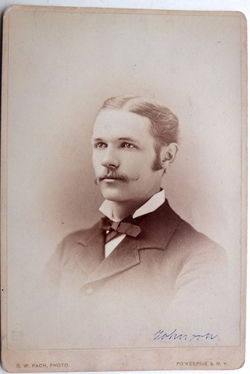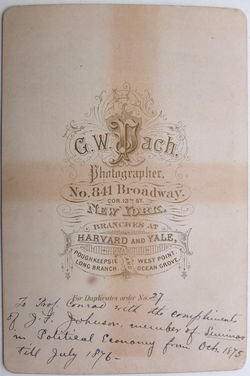 JOHNSON, JOSEPH FRENCH -:
"Portrait-Photographie des jungen Nationalökonomen, aufgenommen im Atelier G. W. Pach in New York. Rückseitig mit einer handschriftlichen Widmung: "To Prof. Conrad with compliments of J. F. Johnson, member of Seminar in Political Economy from Oct. 1875 till July 1876." 16,5 x 11 cm."
"Joseph French Johnson (1853 - 1925) was an American economist (1878 to 1881 teacher at the Harvard School in Chicago), journalist (financial editor of the Chicago Tribune), Professor (1893-1894 he was Associate Professor of Business Practice and since 1894 he has been Professor of Journalism) and Dean of the School of Commerce, Accounts and Finance, New York University, and founding Dean of the Alexander Hamilton Institute in New York in 1909. The photo was taken in the studio of Gustavus W. Pach (1845-1904). "The most successful of the diversified photography companies that emerged in the wake of the Civil War, the New York based Pach Brothers Studio pursued every sort of photographic business, from scientific documentation to celebrity portraiture." - Karton mit minimalen Randläsuren, das Porträt mit einer späteren handschriftl. Bezeichnung 'Johnson'."
Preis: 180 EUR