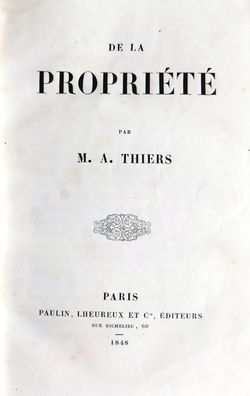 THIERS, M. A(DOLPHE):
De la Propriété. Paris, Paulin, Lheureux et Cie., 1848. (2) Bl., 439 S., dunkelgrüner, goldgeprägter Halbleder-Band (Kanten minimal berieben, Gelenke mit winzigen Fehlstellen). Erste Ausgabe.
"(Stammhammer I, S. 246). Thiers "won conservative acclaim for a pamphlet entitled 'Du droit de propriété' in which he defended the interests of property owners and forcefully voiced the anti-socialist fears which had gripped the notables in the wake of the June Days. An exemplar of the self-made French bourgeois, he denounced radical social measures as utopian but did not advocate extreme laissez-faire. As president of the assembly's commission on public assistance, he lent his name to mildly interventionist social programs such as state aid to housing and he favored French military intervention against the Roman Republic in 1849 and helped cement a conservative coalition by promoting concession to Catholics in education. Despite his growing acceptance of a conservative republic and his opposition to Louis Napoleon's efforts to restore the empire, Thiers assisted in the general conservative reaction against democracy which allowed Louis Napoleon to appear as a friend to the common people and to undermine the popularity and political resources of the monarchist-dominated assembly. " (Steven Kale, in : Encyclopedia of 1848 Revolutions). - Vorsätze etwas fleckig, sonst auch innen schönes Exemplar."
Preis: 120 EUR